An unusual honeymoon: Bali by bicycle
My husband and I are keen cyclists, and have cycled all over the world. So when it came to booking our honeymoon, we just knew it would need to involve cycling. However we were getting married in Europe in August and wanted to go somewhere longhaul that would be warm and that we hadn't been before.  The options started to narrow…
That was until we came up with the idea of a honeymoon cycling around Bali.
Bali is a classic honeymoon destination: gorgeous five star hotels abound, the beaches are beautiful and the food is delicious. It's also not as expensive as many destinations in Asia. What's less usual is to hire a bike and cycle around the island while you're on honeymoon!
That said, we knew we wanted some five star experience as well as someone to help us transport our luggage and provide bikes. We decided to get our five star fix and the beginning and end of our holiday, and spend the middle week cycling.
We had a fantastic time.
We had a wonderful few days in a luxury resort on the east coast of Bali and then a few days in the island's cultural capital, Ubud. Ubud is a fascinating town, full of little shops, bars and restaurants. You can also get incredible massages for very little money.
After a relaxing start to the trip,  it was time to get on the bikes!  It was certainly quite hot and humid but getting out on the road, away from the classic tourist resorts on the island's south coast was awesome.  Our guide took us on small roads wherever possible, and we came across local markets, small businesses and even a wedding ceremony.
One of our favourite parts of the ride was in the central mountains of the island, around Mount Batur. The roads are steep and the asphalt is often poor, but the lush green hillsides, traditional villages and vibrant paddy fields are unforgettable.
If you're planning a trip to this part of Bali, however, it's worth being aware that luxury hotel options in the interior of the island are few and far between. We got the feeling that most visitors were here on day trips from more upmarket resorts.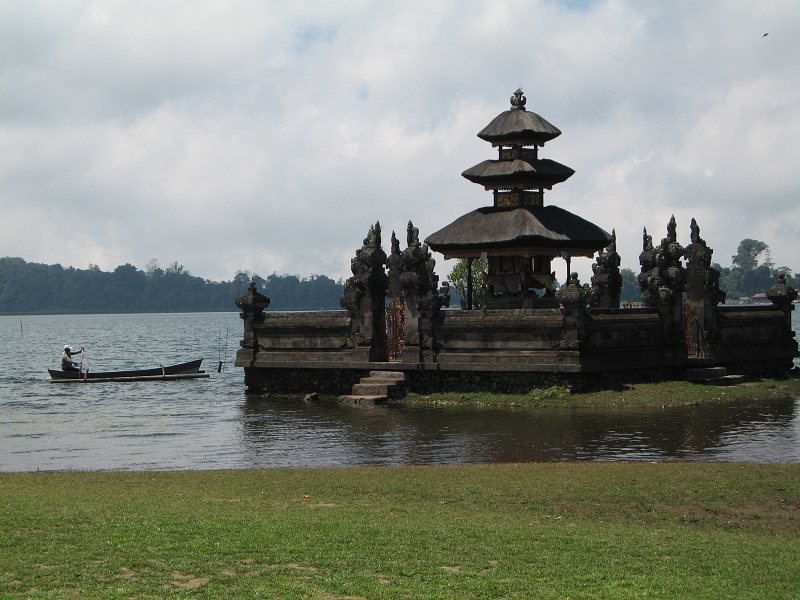 But to make up for it, this is where you get a sense of the real Bali.  A particular highlight for us was riding to Pura Ulun Danu. Our experience was probably enhanced by the fact we had only a vague expectation of what this magical temple complex would look like.
We cycled up to the iconic tiered temples set on an island on the lake and came across  colourfully dressed local people. Adults chatted and relaxed, kids played near the shore of the lake. Everyone was there to attend a religious ceremony and they came with musical instruments, food offerings and bright parasols. It was probably an offering ceremony to the Balinese water, lake and river goddess Dewi Danu.  It was a joyful experience in a serene location. I will never forget it.
This is a guest post by Clare Dewey. Clare is the founder of Epic Road Rides, the travel website for road cyclists. You can find her beautifully presented, free cycling guides at www.epicroadrides.com. The guides contain tried and tested route descriptions and info on where to stay and when to go to 15 different cycling destinations around the world. There's no guide to Bali (yet!) but her guide to Barbados looks tempting!
Want to stay in touch with Epic Road Rides? Follow their cycling adventures at www.epicroadrides.com or on the Epic Road Rides Facebook page!