Most Romantic Places for Valentine's Day In Nepal
Adrift your heart and soul in the land of sheer magnificence to feel harmony and calmness. Traverse to the land of Himalayas with your significant other and relish every moment of togetherness, love, and intimacy. Explore the blog and know about romantic places for Valentine's Day in Nepal.
All days are special when spent with the love of your life, but there is one specific day that is dedicated to celebrating love, romance, partnership, and purity. Valentine's Day is a day for the lovers, a day that knows no boundaries when it comes to love, and where people express their love for each other fearlessly.
14th of February is around the corner, and you must have started planning something special for your significant other. The list may have every possible thing like having a rom-com movie marathon, shopping, a candlelight dinner, a surprise party, etc.
But this year ditch the regular drill of celebrating the day with your love and plan for a romantic getaway at a soul-enchanting destination like Nepal.
The modern time comes with a lot of stress, never-ending work, meetings, household chores and what not. So make the most of this Valentine's Day by traversing to the land of impeccable natural beauty, Nepal, for a rejuvenating and soulful romantic holiday.
So here is a list of the most romantic places for spending Valentine's Day in Nepal.
 Color and Nature – Kathmandu
Spend the day in the Capital City of Nepal, Kathmandu is one hugely popular tourist destination filled with colors, vibrancy, and serenity. The city gives you a glimpse of nature at its best with its enormous sightseeing options including temples and heritage sites. Famous for its snow-covered mountains, mesmeric lakes, and valleys, Kathmandu has it all for you. Adrift in the soul-enriching environment of Kathmandu with your partner/spouse and enjoy the best candlelit dinner. The place is known for its amazing restaurants, cafes, and bars which serve delectable food bestowing the panoramic views of nature at its best.
Replenish and Rejuvenate – Pokhara
There is nothing better than a day well spent with your significant other, especially if it is Valentine's Day. Celebrate it in Nepal with a rejuvenating yogic getaway through couple yoga retreat, and not only be together but also know each other better, form a deeper connection, build a strong understanding and fall in love with each other all over again. Pokhara is a legit yogic town with a legacy that offers amazing yogic and couple getaways amidst the beatific backdrop of the lakes and mountains.
Spiritual Togetherness – Bhaktapur
Fly down to the land of temples and divinity, Bhaktapur is one of the three biggest and royal cities of Nepal and is widely famous for its spiritual getaways, religious places and finding solace. You with your partner can seek the blessing of the divine universal powers and engage in the activities that are liable to connect you with your spiritual being and make the bond between you too stronger and better. Bhaktapur is also renowned for its Durbar Square and when in the town do visit places like Nyatapola, Araniko Highway, Vatsala Devi Temple, Siddha Pokhari, and more.
Fun and Thrill – Adventure Activities
A perfect day out for the adventure loving couples can be spent in Nepal. The country offers the best thrilling activities to satiate your adventure seeking soul. If wanderlust entices you both, then adventure package to this beautiful country is ideal. Go to Pokhara or Kathmandu, Mustang, or a National Park you can enjoy your day to the best. Enjoy Paragliding in Pokhara, Jungle Safari in Chitwan National Park, go for Mustang Trek, Camp and Trek at Annapurna Circuit or hike up the Everest Base Camp, or go for river rafting, heli-skiing, etc.
Calmness and Peace – Lumbini
The birth land of Gautam Buddha, Lumibin in Nepal adds more to the credibility and significance of the country when it comes to seeking peace and tranquillity. Leave the chaotic lifestyle behind and spend time with your partner amidst the peaceful ambiance of the place and feel rejuvenated, calm and happy within. Seek the teaching and blessings of Lord Buddha, when in Lumbini and also visit Shanti Stupa, Maya Devi Temple, and more. A meditation retreat is an ideal way of spending time in Lumbini with your partner on V-Day.
Luxury and Royalty – Patan
A trip spend without leisure, is a voyage underplayed. A vacation without a touch of royalty especially when going with your partner is essential. Traverse to the royal town of Patan or Kathmandu and relish every bit of fancy living with the special services of quintessential luxurious resorts and Villas. Patan is one of the three big cities of Nepal including Bhaktapur and Kathmandu and known for its royal palaces, Durbar Square and Heritage sites. So this Valentine, spend leisure time with your loved one amidst the grandeur setting enjoying the opulent services in Nepal.
Nepal is one dreamy land for travelers of every kind. Fly down on the occasion of Valentine's Day and fill your heart and soul with love, understanding, warmth, intimacy, and endearment.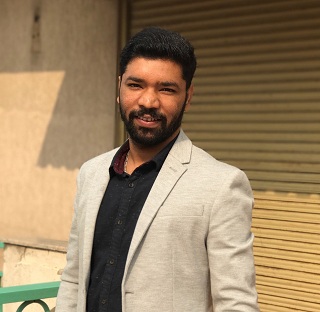 Manmohan Singh is a passionate Yogi, Yoga Teacher and a Traveler in India.  Manmohan Singh conducts Yoga Teacher Training in India in different cities. He loves writing and reading books related to yoga, health, nature, Himalayas and Trekking in India.